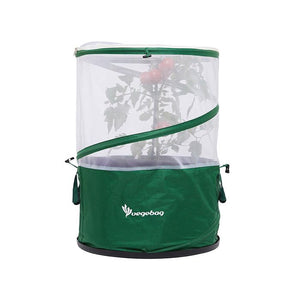 Vegepod Vegebag
VEGEPOD VEGEBAG 
Vegepod's signature self watering reservoirs have been customised for the Vegebag. Holding 6 litres of water the unique wicking cell reduces watering by up to 80%. Vegetables are watered from their roots up with soil nutrients being sucked up into the root system rather than washed from the bag, as most traditional pot plants do.
Vegepod's signature mesh encases the Vegebag providing amazing growth rates as well as protecting against wildlife, pets, pests, bugs and inclement weather.
Simply pop the bag open and place the wicking cell in the bottom of the Vegebag then fill the bottom section with a good quality compost (80 litres) and plant your veg. Make sure your Vegebag has adequate sun (we suggest 6 hours) and is watered in the absence of rain.
KEY VALUES:
Reduces watering by up to 80% - Veggie health is ensured with our self-watering technology by using a wicking system and watering the plants from below. Plants can last weeks without watering in Vegepods
Provides amazing growth rates
Protects against wildlife, pets, pests, bugs and inclement weather
Great solution for all herbs, leafy greens and root vegetables
Ideal when containment growing is desired - Perfect for mint, tomatoes, capsicums and eggplants
Supplied with rubber handles for easy movement
Equipped with hard plastic base for durability with drainage holes to prevent flooding
Significant soil levels for root vegetables
Collapsible design for easy access and storage
Double zippered opening for easy access to your plants