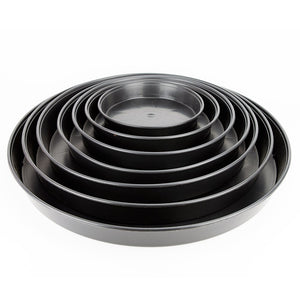 Round Saucers
A gardening essential, traditional round pot saucers are an ideal way to support plant growth. Strong and durable, these plastic saucers are cleverly designed to catch any run-off from plant pots.
When hand watering, its recommended to give a 20% run off during the wet cycle to ensure the entire medium is wet - without the use of these saucers for individual plants or trays for a larger number of plants, this run-off would simply flow onto your floor and flood your room each time you water. With the simple use of these trays under each pot, you can easily water until run off and then empty the tray.
The high sides and wide lip will catch any run-off when watering, minimising the risk of spillage onto the surrounding grow-room floor or greenhouse shelves. Excellent value for money, plant saucers can even be reused numerous times and mix and matched with other pots.