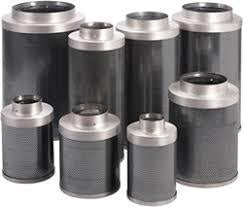 RHINO Pro Filters
Rhino Pro Carbon Filters are in our opinion the best carbon filters in the UK and continue to be one of our best selling products. Loaded with premium activated carbon to effectively control unwanted organic odours, Rhino's have been helping growers get rid of unwanted smells for over 10 years.
All carbon filters work by moving air over "activated carbon" – a charcoal derivative that has a massive, highly asorbant surface area at the molecular level. As the dirty air is moved through the carbon the carbon holds onto the particles of odour and the air leaving the filter is odourless.
Rhino Filters use the Australian Tiwest RC412 activated carbon, generally agreed to be some of the best in the world for this purpose - it provides excellent filtration for at least two years and remains effective in both high and low humidity.
It is important with all fans and carbon filters to match the airflow rates of both, otherwise the odour control will not be as effective and the lifespan of both components can be reduced.