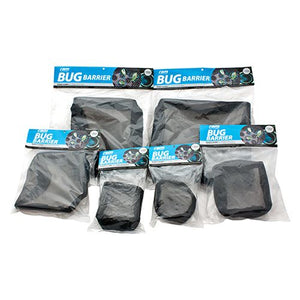 RAM Bug Barriers
Ram Bug Barrier - Ducting End Cover

How do you stop loads of bugs getting into your grow-space through your air intake system? Just fit one of these great little covers onto the end of your intake ducting and worry no more! They're dead easy to fit and stop those insects in their tracks and barely affect the air-flow at all. A must-have for the warm-weather months!
Fits onto the end of ducting or fans
Very cost-effective
Velcro fasteners for easy installation
Use on your air inlet to stop the bugs getting in!
Barely affects the air-flow at all
The Ram Bug Barrier Contains:
The Ram Bug Barrier is available in 6 different sizes: 4" (100mm), 5" (125mm), 6" (150mm), 8" (200mm), 10" (250mm), 12" (315mm)
How the Ram Bug Barrier Works:
The  Ram Bug Barrier is a circular shield that fits straight onto your air intake system. The shield is made up of a layer of fine mesh - fine enough to stop most bugs from being sucked into your grow-space without having a negative effect on air flow rates.
The Bug Barrier also comes with Velcro fasteners sewn into the edges. Each segment of Velcro has a separate matching piece that comes with a peel-off sticky side. These pieces of velcro can be stuck around the edges of your ducting or spigot and used to secure the shield in place.
Using the Ram Bug Barrier:
Remove the four pieces of velcro, peel off the covers and stick them around the outlet point of your intake system. Make sure that they sit around the circumference of the spigot /ducting in line with the velcro fasteners sewn into the shield, then stick the Bug Barrier over the inlet end of your air intake system. Remember to clean or replace the Shield occasionally as the steady build-up of bugs over time will begin to reduce the air-flow.