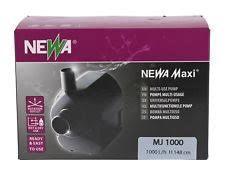 Newa Maxi Water Pumps
The Newa Maxi pump is a high performance pump with extremely low failure rates and an equally low power consumption.
Suitable for use externally from your nutrients or fully submerged, the Maxi Newa pumps also have a 360 degree rotating outlet for directional use.
Each Newa Maxi pump features a silent, versatile and low-maintenance motor that is thermally protected to avoid overheating.
Fitted with strong suction cups and mount support bracket, your pump can be installed and located almost anywhere.