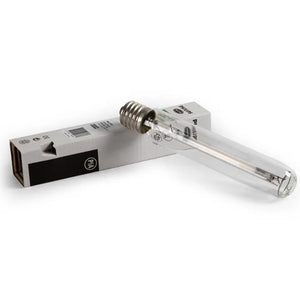 Phillips Master Greenpower PLUS 600W
The First Choice of Professional Horticulturalists
The Philips Master Greenpower lamp is known as one of the best performing 400v lamps out there. It's heavily utilised by professional horticulturalists in the commercial food growing industry, which is largely down to its ability to pile on weight during the bloom phase. When used with the right system, this lamp will outperform pretty much any other 600w lamp out there, and it will last for approximately a year!
Want more blue light in your flowering period? Check out our Complete 315w CDM Grow Light Kits.
How the Greenpower 600W / 400 Volt Lamp Works
Why not take a look at our 400V 600W HPS Grow Lamp Shootout Blog
The Philips Master GreenPower 600W / 400 Volt HPS Pro EL Lamp is a single-spectrum lamp with the most plant-useable light output of just about any 600 Watt lamp on the market. The lamp produces light mostly in the orange/red part of the spectrum for heavy flowering however, it does produce some light in the blue part of the spectrum making it suitable for vegging. It has been specifically designed to make the most of your HPS Pro (400 Volt / 600 Watt) system where it will produce more plant-useable light photons, of a better spectrum, than any other 600 Watt lamp available.
Light spectrum output of the Philips Master GreenPower Pro EL HPS lamp: