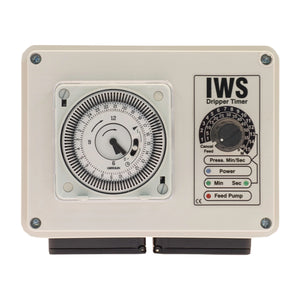 NEW IWS MINUTE TIMER - DRIPPER
This versatile pump timer allows you time individual minutes or seconds as required. It is perfect for use with hydroponics systems to give greater control over water pumps.
The 24 hour timer on the left allows you to set when you want your pump(s) to operate and the second/minute timer on the right allows you to set the duration of each operation.
Plug and play-No wiring necessary
Time between 1 – 15 minutes or 5 – 60 seconds every half hour period.
Rated 800w