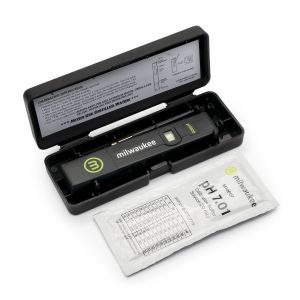 Milwaukee pH600 pH Tester
Digital measuring devices ensure accurate and reliable measurements. The Milwaukee PH600 tester is a measuring device specially developed for determining the pH values in aquariums and aquacultures - perfect to ensure that the pH values are kept within the limits required for the inhabitants to lead healthy and happy lives.
The tester is equipped with a user-friendly, digital LCD display. A trimmer located on the back of the test device can be used to carry out a simple one-point calibration. The pH sensor is protected by a practical cap which keeps it moist when stored upright.
The tester consumes very little energy guaranteeing a long battery life. Three 1.5 V batteries are included in the delivery.
How to measure:
Insert the probe into the sample, stir gently and wait for the reading to stabilise.
Instructions for care:
With regular care and proper maintenance, the tester pen will last a long time and continue to deliver reliable and accurate results.
► Tips for proper maintenance:
Always store the pH tester with the cap filled with Buffer or Storage Solution MA9015. Never store it in water.
Clean the device regularly. Soak it in MA9016 Cleaning Solution!
After you have cleaned and/or stored the tester, calibrate it to compensate for any changes in the pH sensor.
Gently stir the tester in the sample for faster results.