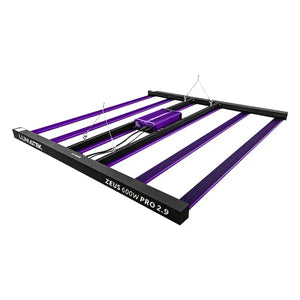 Lumatek Zeus Pro 2.9 LED Grow Light
Breaking new ground at a market-dominating 2.9μmol per Watt, the brand new Lumatek Zeus Pro 2.9 is the latest development in LED lighting technology and represents the highest performance figures currently on the market.
Extremely

 

high PAR output of 2.9μmol per Watt
Top quality

 

diodes from Lumiled and Osram
Full spectrum

 

light for veg and flowering stages
Effective for 60,000 hours
Low profile

 

fixture great in multi-layer setups and short rooms
Replaceable

 

100W magnet light bars
Dimmable

 

from 100% to 75%, 50% and 25%
User friendly, Plug & Play assembly
Detachable driver

 

for remote use
Waterproof

 

IP65 rating
With a total light output of 1770μmol per second, this is a seriously bright grow light perfect for spaces of 1.2 -1.5m square. At these levels, you'll probably need to use the built-in dimming function for younger plants, and with the unit running at full power we would advise adding CO2 to really see the benefits of all of this additional light.
As with the previous model, build quality is exceptional and the tried and tested mechanism provides a sold and stable framework for these super intense light bars. You only need to see one of these lights setup to appreciate just how well put together they are.
The individual magnetic 100w light bars are super easy to fit and replace should you need to, one of the main innovations on this model being the Clear Glue protection cover technology on the LED bars. This gives 99% light transmittance but maintains IP65 waterproofing, also allowing for quick and easy cleaning of the bars with a damp cotton cloth. It also extends the diode lifetime significantly so your investment is in safe hands – especially with the 5 year Lumatek warranty to back you up.
LED's have come a long way in the last few years - gone are the days of poor plant growth and leaf issues caused by poor spectrum. The latest generation of lights from Lumatek have a perfectly balanced spectrum, combining top-spec Osram and Lumiled diodes in an innovative configuration that maintain spectrum whilst dimming and keeping operating temperatures as low as possible.