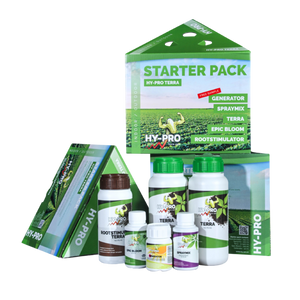 Hy-Pro Starterpack Terra
HY-PRO STARTERPACK – TERRA
HY-PRO FERTILIZERS – STARTERPACK SOIL PLANTS
The Hy-pro starterpack TERRA is a great gift for all plantlovers using hydroponics. The starterpack TERRA will produce some impressive results with your favorite houseplants, indoor herb garden or seasonal garden patch. The starterpack TERRA is specifically developed for soil plants and contains a total of 5 different ingredients.
HEALTHY ROOT FORMATION IN PLANTS IS VITAL FOR SUCCES
As its name suggests, root stimulator helps a plant to develop strong and healthy root systems. It provides young or repotted plants with the best combination of nutrients while plants 'root' in their new environment.
FERTILIZERS PROVIDE ESSENTIAL GROWING NUTRIENTS FOR PLANTS
The nutrients needed to promote growth are not naturally presented in your cocopeat substrate. Therefore it is necessary to use a liquid fertilizer in order to supply the plant with the required amount of nutrients.
BLOOM BOOSTERS PROVIDE SEASONAL SUPPORT FOR PLANTS
Getting gorgeous blooms throughout the growing season doesn't usually happen by chance. A good bloom fertilizer can create bigger, better and more fragrant flowers in your garden plants.
PLANT SUPPORT NOT FOCUSSED ON THE ROOT INTERACTION
Foliar feeding is a technique of feeding plants by applying liquid fertilizer directly to their leaves. The nutrients provided through foliar spray will travel through the entire plant, all they way to the roots. 
HEALTHY PLANT VITAMINS FOR INDOOR AND OUTDOOR PLANTS
Hy-pro generator consists of the ideal mix of trace elements. These elements, with the right dosage, can help to keep plants and crops growing more consistently and therefore producing more flower or fruits.