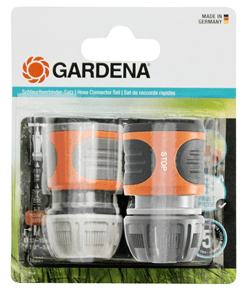 Gardena Hose Connection Set 1/2 - 5/8
In this set, you can find a Hose Connector for the beginning of your hose and Water Stop to be connected to the hose end. The colours help for easy labelling: light – coloured hose lead – tap connection and dark coloured hose end.
The Hose Connector by GARDENA is a useful adapter for a quick and easy-to-use connection at the beginning of the hose. The elastic ring, which you will find at the end of the hose connector, serves as protection from damage. When attaching the connector to the garden hose, the Power Grip will always be a great help. The specially shaped union nut ensures a high hose pressure. The soft plastic grooved grip recesses ensure a firm hold even with wet hands. Releasing the connection with a just simple pull is very easy.
The Water Stop from GARDENA is a practical hose fitting with innovative functions to help you with garden watering. The adapter is attached to the end of the hose and then goes into action every time you want to change a watering accessory. The auto water stop function cuts off the water flow immediately and only starts again as soon as you connect a new watering accessory, such as a spray nozzle, to the hose. This saves you the annoying trip to the tap because you don't need to turn off the tap while using the Water Stop.
Both products are frost-proof, so they are not affected by the cold. This high product quality is made in Germany and supported by a GARDENA 5-year warranty. Das Original GARDENA System.