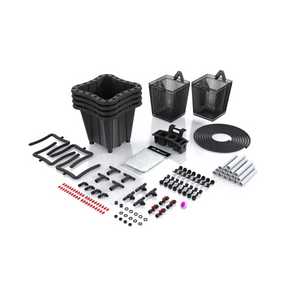 BUCKET CO. - Ez-Pz Planter STAKE Growers Kit - 10 Gallon Trellis Growers Kit
The 10 Gallon Trellis Growers Kit caters to growers using trellis systems to support plant growth and is designed with a top feed irrigation system that closely resembles hand watering but without the time and labor! 
With so many different ways to grow the plants and fruits you love, The Bucket Company created a solution to the ever-changing industry by designing a line of growing systems that work with both Drain to Waste and Hydroponic (recirculating) applications. Growers are no longer forced to grow only "one way" when using The Bucket Company systems. Simply choose your preferred method by assembling your system to Drain to Waste or Recirculate back to your reservoir.
Key Benefits:h
Adjustable height when using (optional) 1-1/4" PVC Legs
Versatile system that helps with aisle and space management 
Works with all growing mediums (Coco, Soil, Hydroton, Rockwool, etc)
PVC Legs (Optional): 8" Height
Recommended Reservoir Per 4 Buckets: (Gallons/Liters): 24-26 Gallons / 90-100 Liters
Recommended Pump Size Per 4 Buckets: 1100GPH / 4164LPH
Works With All Growing Mediums: Coco, Soil, Hydroton, Rockwool, etc