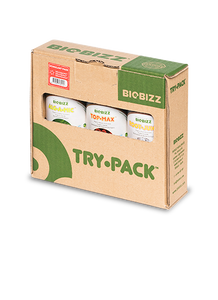 Biobizz. Stimulant Try Pack
Do your plants seem rather lacklustre and in need of a boost? If talking or singing to them hasn't worked, it might be time to turn to the magical power of our Stimulant·Pack – one of the four members of the recently launched Biobizz Try·Pack™ family. It makes it simple to gain experience using the Biobizz range of organic fertilizers.
Naturally better growth from root to tip
You can't go wrong with this high quality, great value, complete pack. Designed to be simple to handle, it can also be combined with any other Biobizz products or Try·Packs to maximise your harvest and minimise costs.
Each pack contains:
This combination provides basic feeding for 1-4 plants.
250 ML Root·Juice™
250 ML Top·Max™
250 ML Alg·A·Mic™
The Biobizz Stimulant·Pack is the one to choose when you want to take that extra organic step – with bigger plants, sweeter tasting fruit and fantastic results, even when you grow hydroponically.