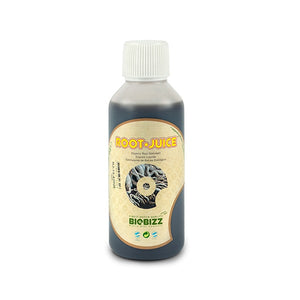 Biobizz. Root Juice
Root Juice is a 100% vegetable based all-organic root stimulator that boosts existing root growth and encourages the development of new roots. It is very effective at creating an abundance of new roots when applied to rooted cuttings, but it can be used throughout the whole growing period to stimulate root growth and production.
Root Juice works by stimulating the biological activity that occurs at the root zone to encourage growth and development. Aside from boosting root growth, Root Juice also enhances and accelerates the uptake of nutrients through the root system, which is why it has proven to be effective throughout the whole growing period and not just for rooting cuttings.
The benefits of a healthy root system are evident as your plants develop. A large, well-developed root system will lead to stronger, bigger plants and greater yields. Stimulating the biological activity at the root zone also helps enhance plant defence systems increasing resistance to disease.
Overall, Root Juice is a great organic root stimulator that is proven to encourage healthy development in soil based systems. So far we've had positive feedback from our customers and the results are comparable to similar established products like Canna Rhizotonic.