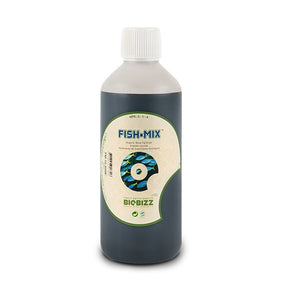 Biobizz Fish Mix 500ml
BioBizz Fish Mix is a complete, all-organic fertiliser designed for use with all soil mixtures. As one of the first organic fertilisers to hit the Netherlands, Fish Mix has steadily built an international reputation as being an outstanding plant fertiliser. Even with today's competitive market it is still considered one of the best organic products out there.
With an NPK ratio of 5-1-4, Fish Mix is primarily designed for use during the vegetative stage of growth, but can be used all the way through flowering and fruiting to encourage healthy green foliage. It can be used as either a soil drench or a foliar spray and contains no chemical additives whatsoever, just pure natural goodness.
Fish Mix is entirely derived from organic fish emulsion from the North Sea and Dutch sugar beet extract. As a large amount of this fertiliser is derived from fish, naturally, in its concentrated form it does smell rather fishy.
However, once diluted into water and mixed up for feeding, the pungent smell does diminish slightly, and providing you have adequate ventilation / odour control inside, you can safely use Fish Mix inside as well as outside without running the risk of overpowering your growing environment with the smell of fish.
Fish Mix works by boosting the growth of beneficial organisms in the soil, which in turn increases the available nutrients and helps to accelerate the growth of your plants. It can be used to replenish old or poor quality soil with microbial life and can be used to 'fatten' up soil, stimulating microbial activity.
Key features of Fish Mix include:
Fully organic complete plant fertiliser
Stimulates microbes and accelerates vegetative growth
Can be used as a soil drench and foliar spray
A product of leading Dutch organic manufacturer 

BioBizz
Our Opinion
Organic growers tend to choose from two main growth feeds, BioBizz Grow and BioBizz Fish Mix. Both are great at stimulating biological activity in soil and encouraging healthy growth and development. We highly recommend Fish Mix and the only real downside is the pungent odour. If you intend to use Fish Mix indoors just make sure you have good ventilation / odour control. Overall, Fish Mix is one of the best organic products out there.