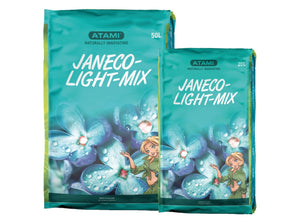 Atami Janeco-Lightmix
Atami Janeco-Light-mix
Janeco-Light-Mix is suited for a large variety of plants and comprised of different types of peat enriched with perlite. These various types of peat are excellent to support the growth of your plants.
Furthermore, characteristics of the peats are reinforced by the addition of perlite. As a matter of fact, perlite improves water distribution and simultaneously increases aeration in the substrate.
The aeration is especially important for the root development and increases the uptake of nutrients for a stronger and more resilient plant.
This soil is also less inclined to retract and dry out. Janeco-Light-Mix contains nutrients lasting for many weeks; it can be used immediately. The peat mix is suitable for a large variety of watering systems and also suitable for seedlings, cuttings and for potting.
• Lightly fertilized
• Airy structure
• For resilient plants